It's hard to remember the world before the pandemic. 
Back in January 2020, I knew I had a stellar crew for Book Proposal Academy, but I didn't know how stellar. 
Until everything changed, forever. 
That's when I learned that this Book Proposal Academy cohort was a very, very special one. 
We were sheltered-in-place across three time zones and two countries. We went through relocations and necessary business pivots, through the upswell of Black Lives Matter, through re-openings and re-closings.
I mean–! It was a lot.
Yet, not one person – even those with small children, or a business in crisis —  dropped out or gave up on their book project. 
In fact, to my surprise, Book Proposal Academy became a lifeline through the turmoil. 
And the proposals these clients created are excellent.
That is the power of a steady container and of writers who are committed to becoming authors. 
Incredible.
So, it's with great pride that I'll be featuring each of the 8 BPA participants over the next couple of emails— in their own words.
Read their mini-profiles, check them out on social media, show them some love! They've done fantastic work.
Let it inspire you. (Next Book Proposal Academy starts Sept. 17, 2020, fyi.)
---
Catherine Amanda Gray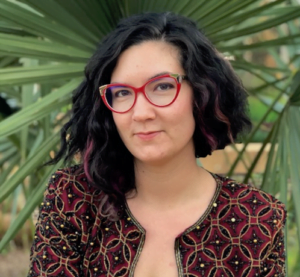 Founder, Unsilenced Woman
FB / IG @unsilencedwoman
www.unsilencedwoman.com
BOOK PROJECT: Catherine's memoir, Proud Flesh: A Mother's Quest for Healing and Pleasure, chronicles how new motherhood stirred up prior sexual and emotional trauma and led her into a powerful journey of healing.
She discovered that the intimacy of pregnancy, birth, and postpartum could teach her a new way to thrive in her life, her marriage–and her sexual pleasure.
WHO SHE IS: Catherine Amanda Gray is the writer and creator of the popular Unsilenced Woman storytelling platform, where she blogs about modern motherhood, sexuality, and healing after trauma (viral posts have reached audiences globally of up to 2.5 million!).
Catherine's writing and confidence really took off in Book Proposal Academy when she realized that her platform was already robust, and her voice was already reaching people around the world. I've watched her flourish in this program, stepping forward as a writer as well as a champion of women's untold stories.
She did all this while on "pause" at home in Jackson, Mississippi, with her partner and their two sons, aged 4 and 1.
---
Jennifer Mayer
Doula & Founder of Baby Caravan
IG: @jennyleighmayer @babycaravan
www.babycaravan.com
BOOK PROJECT: Fully Funded by Forty Weeks: A Freelancers and Small Business Owner's Guide to Parental Leave.
Jen's book gives self-employed people a road map to plan and implement their own parental leave. Preparing for a new baby financially and logistically is something that most entrepreneurs don't know they need to do. But, if they want to heal from birth, bond with their baby, and thrive in business, they need a carefully planned leave. This book shows them how. 
WHO SHE IS: Jennifer has been a doula and small business owner for over 15 years. She's the founder of Baby Caravan in New York City, a group birth and postpartum doula practice with over 50 doulas.
She also coaches freelancers and small business owners to plan their parental leave, and speaks frequently on (and is frequently quoted on) topics related to pregnancy, childbirth, postpartum, and parenthood. 
Over the course of Book Proposal Academy, Jen had to pivot her business, navigate online learning for her young son, while caring for him and her younger daughter, all the while living in a crammed Brooklyn apartment.
In June, massive Black Lives Matter rallies were right outside her door, and police sirens and helicopters overhead. Yet, she got her proposal and sample chapter done. Bad ass.
---
Eileen Rosete, MSMFT, CYT200
Founder, Our Sacred Women
IG: @oursacredwomen
www.oursacredwomen.com
BOOK PROJECT: Our Womb Loss: A Compassionate Guide to Grieving and Healing After Pregnancy and Infant Loss.
Eileen's book is a compassionate, trauma-sensitive companion for women grieving after pregnancy and infant loss. It acts as both a non-judgmental witness and a gentle guide to let women know they are not alone and to equip them with the information and tools they need to move forward through their grief to live full, meaningful lives. These are all the things Eileen wished she'd had after her own losses.
WHO SHE IS: Early in the pandemic, Eileen moved her entire family, including two young daughters, in with her parents, giving up her LA apartment to shelter-in-place. Eileen is incredibly hard working, resilient, and passionate about helping mothers. She also asks incredibly perceptive questions, and is an eager advocate for other writers.
Eileen is the founder of Our Sacred Women, a movement to help women feel seen and honored through events, campaigns, and specialty gifts. Her iconic, sustainably made "women are sacred" t-shirt has made its way across the US and beyond, to places like Canada, Australia, Hong Kong, Great Britain, France, and Dubai. Her work has been featured in the Los Angeles Times, Martha Stewart Living Magazine, and Thoughtfully Magazine.
---
Lucia Hawley
IG @luciahawley_
www.luciahawley.com
BOOK PROJECT: Weighing on Her Mind: How to Balance the Left and Right Brain for Forever Weight Loss is for women who are ready to lose the weight for the last time, end yo-yo dieting, and do it with radical kindness and simplicity.
Lucia's book refutes the "calories in/calories out" and "clean eating" rules of our modern weight-loss culture, and instead highlights what must fundamentally be addressed for any permanent changes to occur: the balancing of the left and right sides of the brain.
WHO SHE IS: Lucia Hawley is a functional nutritional therapy practitioner and women's health expert with a Master's degree in social work, clinical mental health.
She teaches overwhelmed women how to stop dieting, lose weight for life, and master their minds. By balancing the left and right sides of their brain, readers come to understand their dieting identity and finally break free of dieting cycles once and for all. Lucia's podcast, Devoured, has a dedicated listenership who are passionate about transformational weight loss and self-care.
Lucia enjoys getting outside into nature with her family and spunky dog in the Pacific Northwest.
---
More profiles in a following post (and maybe I'll see you in BPA soon?)
Yours in books,
Joelle